Lycoris Recoil staff is harassed because fans didn't received Yuri
Lycoris Recoil staff is harassed despite all the success and being one of the most popular anime of the current season, in Japan it is being treated as the most popular anime of the season, and so far there were only praise, but after the last airing episode, members of the production team have come under attack.
Yeah, some "fans" are sending toxic messages to the people involved in the production of Lycoris Recoil, a particular target is against Kanbayashi who wrote the script for most episodes of the series.
The reason for the threats? Apparently it was because Majima was more prominent alongside Chisato than Takina, and fans wanted more Chisato x Takina at the end or confirmation that they are a couple, which they didn't.
Lycoris Recoil staff is harassed: Favorite Target Is Yusuke Kanbayashi
In the last episode of Lycoris Recoil, Chisato and Majima have their last confrontation, alone, just the two of them, and at one point they have a nice conversation. Ultimately Chisato is unable to defeat Majima who disappears.
And towards the end of the episode Chisato and Takina are shown only as friends, there is no romance, it seems that some fans expected this to be a Yuri anime which did not happen.
The harassers' favorite target was Yusuke Kanbayashi, who scripted episodes 4, 8, 9, 11, 12 and 13, that is, he scripted the last 3 episodes, which highlighted Majima (which he should have, after all is the villain). See some comments below: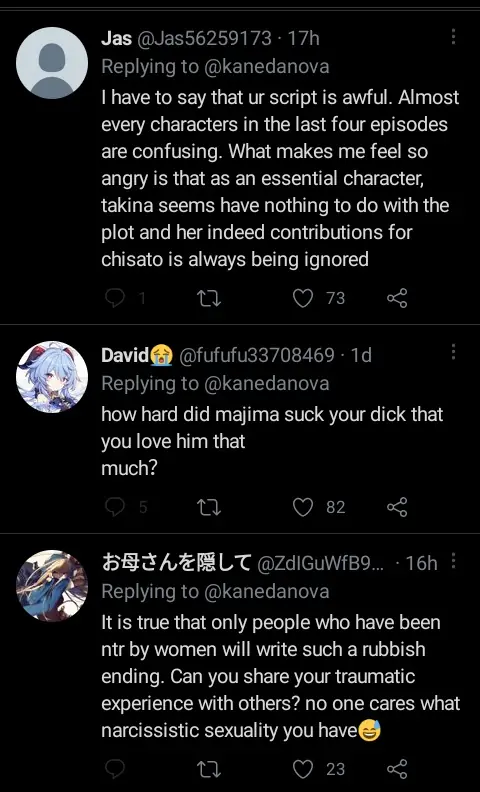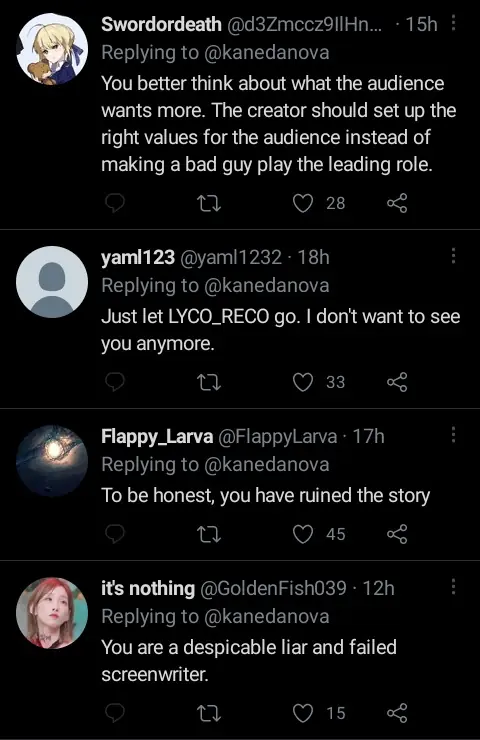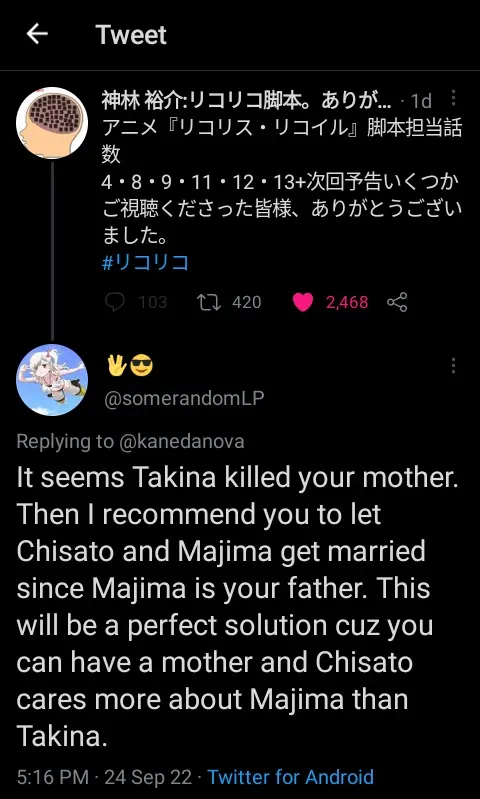 There is a suspicion that those who are complaining are Chinese profiles that are posting in English, and not that they come from Westerners themselves, they discovered prints and recorded videos where Chinese social networks have Chinese agreeing to harass him.
All the hate commenters here are from the Chinese forum tieba, using alt accounts and Google translate. the only people in the world that are this mad, harassment ain't a joke you clowns 🤡🤡 https://t.co/MY0Y2FSK3F pic.twitter.com/ChlArxBWU6

— Kazuhey (@Noquestionns) September 26, 2022
A staff member have confirmed Yuri in the Anime?
A print that circulated on the internet from last month shows a fan asking Yuri in Lycoris Recoil for Asaura, who is responsible for the story of Lycoris Recoil. The conversation went as follows:
I don't know if Asaura really knows English and understood the context of the conversation or confused everything, but even that is not an excuse or a free pass to harass the staff. A second season could very well take place and yuri roll in there.
Well, all this harassment had an effect, as some profiles of Lycoris Recoil production team members restricted comments on their Twitter profiles.
Really a sad case given all the popularity of the anime.