EP 11 of Bocchi The Rock showed Hitori big breasts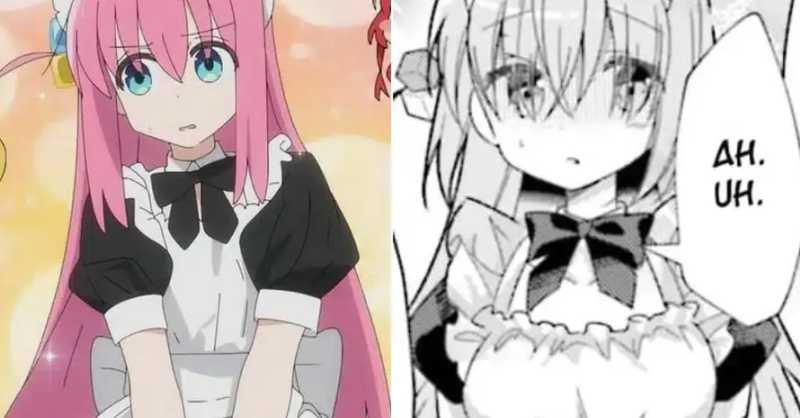 Bocchi The Rock! it really is the anime that promised nothing but delivered everything. Attracting looks from the otaku community, thus becoming one of the best anime of the season for sure.
Bocchi The Rock warms the hearts of otakus with its shy and anxious protagonist who dreams of making friends and forming a rock band. But there is a curious detail between the anime and the manga regarding Hitori's big breasts. By the looks of it, she has more chest in the manga than in the anime, see below:
As you can see, in the anime it looks like a board, in the manga it has a certain volume. Of course, this is not something to complain about, but the anime somehow hides the character's qualities…
Check out some comments about Hitori's breasts:
"3 basic character traits stand out about her: she plays the guitar, has anxiety, and has big boobs. I think it's disrespectful that they censor the last thing."
"The animators betrayed us."
"That's why we need more illustrations of Bocchi-chan with big breasts, to balance things out."
"The anime makes her more modest'
' "They nerfed her again"
"I really need to pick up the manga to read"
EP 11 of Bocchi The Rock showed Hitori big breasts
An interesting thing that happens in other scene is that Bocchi appears in a bathing suit, and thus, it is possible to see one of her greatest qualities.
Hitori's big breasts finally appear in the anime! Check out some comments about it:
"Finally, the time has come."
"I would watch that video 1 million times just for Bocchi."
"I was doubting that the anime would censor Hitori's big breasts."
"Without a doubt, an epic moment."
"Finally they showed the real Bocchi in a few seconds of glory."
Anyway, what do you think? Let us know in the comments! See also albums of famous bands with Bocchi The Rock! girls.