Bunshun Online reported that Miku Itou is living with a man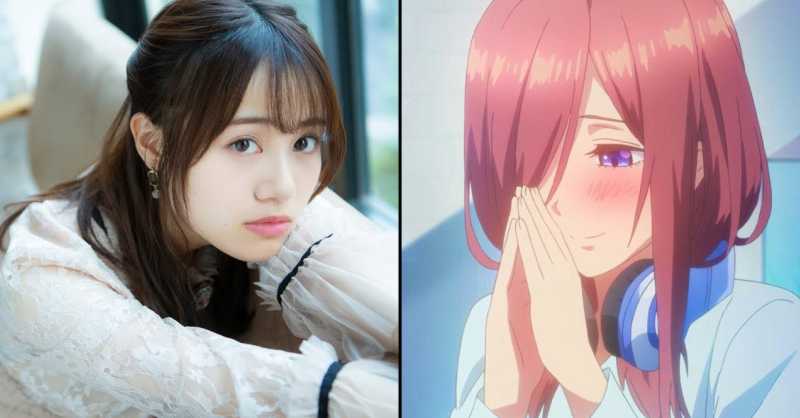 Bunshun is indeed the terror of Japanese celebrities, and the victim this time was seiyuu and singer Miku Itou, recognized for lending her voice to Nakano Miku from Gotoubun no Hanayome. The website reported that Miku Itou is living with a man.
Miku Itou was leaving an event in Saitama around 10 pm on November 12th. About 2 hours later a man appeared at the door of his apartment in Tokyo, walking straight in as if it were usual.
Bunshun Online reported that Miku Itou is living with a man
Uma fonte disse o seguinte: "I understand that Miku Itou already lives with someone. His partner is Chihiro Okutani, a member of Candy Boy, a group of young actors belonging to TV Asahi Music. We regularly organize musical performances set in cafes, which attract a lot of attention, especially from women in their 20s and 30s.
The man who entered Miku Itou's house was Okutani himself. And he showed up again the next morning coming out of the apartment in casual clothes. That wasn't the only day Okutani was seen. It was confirmed that Miku Itou and Okutani would leave the same room, go to work and come home again and again.
A source close to Okutani said the following: "Both Miku Itou and Okutani are now in an important period of their careers. They take maximum care of their relationship. I've never heard of them dating and they seem to be very meticulous about the seriousness of their relationship. I used to go out drinking with him a lot, but that has drastically slowed down over the last few years. I wonder if it was around the time Okutani-kun started living with Itou-san. It's nice to know you have a boyfriend who wants to prioritize you over drinking with his friends."
Bunshun interviewed Miku Itou on her way to work to inquire about her relationship with Okutani. Check out the interview below.
Bunshun: Excuse me, Itou-san. I'm from Bunshun Online.
Itou: Yes?
Bunshun: I'd like to ask about the fact that you live with Okutani-san from the Candy Boy group.
Itou: Oh, sorry. I was told not to answer anything.
Bunshun: I understand, you have a hard time talking about your relationship?
Itou: I would ask you to request information with my agency.
Bunshun: Your fourth studio album will be released in February, is this an important moment for your career?
Itou: Yes, I'm working a lot. I'm sorry, but I have to run to work.
Bunshun: Thank you very much for your time
Itou: Sorry for not being able to respond.
Voice actress and singer Miku Itou apologized to her fans on her official Twitter account because her private life was exposed. Check out his tweet below:
プライベートの事でお騒がせしてしまい大変申し訳ありません。これからもいち役者としてアーティストとして変わらず邁進していきますのでよろしくお願い致します。伊藤美来

— 伊藤美来 公式info (@InfoItomiku) December 17, 2022
"I'm sorry for the trouble I caused because of my private affairs. I will continue to move forward as an actress and singer, so please continue to support me."
This case generated some comments from his fans:
"It can't be, that's a lie"
"Oh no, it's over"
"I'll kill myself if this is serious"
"It's the end, we won't have a sequel to Adachi to Shimamura"
"I'm seriously shocked"
"Serious? Already 26 years old? The last time I saw her she was still studying. I'm surprised"
"I hate that man, but I envy him too"
Bunshun Online is terror! What do you think? let us know in the comments!
Source: Bunshun Online