Sega Fan Wedding has Mega Drive Themed Cake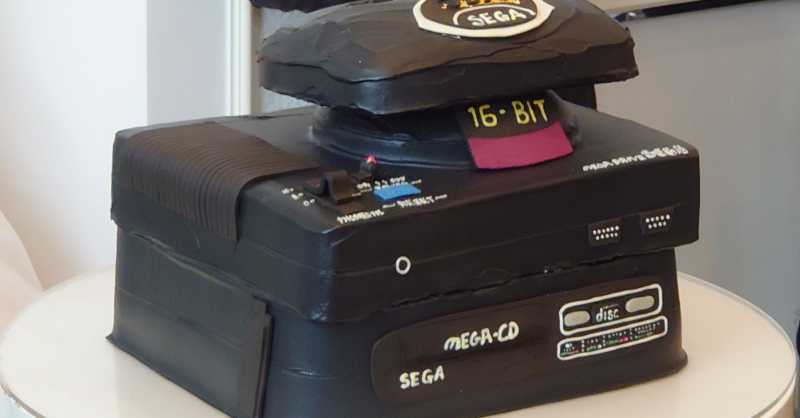 Otaku and gamer weddings make everything more fun. They run away from the bland vibe of normal marriages, and people can seem more. And it was in Japan that a Sega fan wedding took place, with a Mega Drive cake!
The Mega Drive is called the Sega Genesis in North America, it is a 16-bit console developed and marketed by Sega that was released in 1988 in Japan and in 1989 in North America.
Sega fan wedding has Mega Drive themed cake
A Japanese Twitter user was invited to his friends' wedding, and when he got there, he was surprised by a Mega Drive cake from the married couple!
今日参加させてもらった結婚式のウエディングケーキ

メ ガ ド ラ pic.twitter.com/bCgK5q0nZQ

— NAGASEおじさん (@NAGASE_FC3S) September 18, 2022
You can tell the love they went into creating the Sega fan wedding cake, as it is indeed extremely detailed. As you can see, on the back are the places where the connection cables are placed.
The couple did not follow the tradition of the first slice of cake, which in Japan is called "keeki nyuutou", literally "inserting the knife into the cake". What the couple did was perform an "insertion of the cartridge in the cake" with a cookie modeled on the Sonic and Knuckles cartridge from 1994, only in place of the Knuckles, there is Amy Rose to symbolize the couple.
sega itself responded to the tweet with a congratulations!
おめでとうございます!

— セガ公式アカウント🦔 (@SEGA_OFFICIAL) September 18, 2022
This Sega fan wedding was pretty nostalgic, huh?
Via: SoraNews24