Not even Facebook can resist Makima from Chainsaw Man
Did Facebook ever do this? There is immense hype for Chainsaw Man among the public, extremely immense, is the new MAPPA production anime being very much awaited even by Facebook?
As is normal for news sites, IGN covered the latest trailer for Chainsaw Man and shared it on social media for people to see.
So, not even Facebook can resist Makima, to which he ended up commenting with the following and revealing himself to be an Otaku:
Seeing Makima is enough for us
Check out the print of the publication below: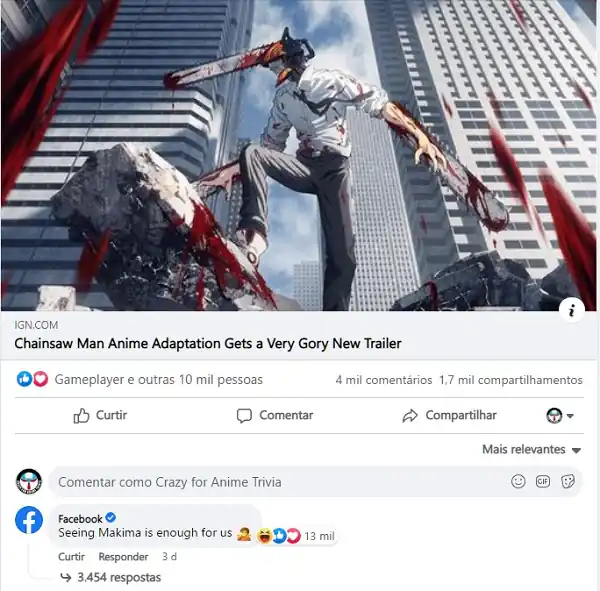 I died not knowing that Facebook made these interactions on its social network, wanting to interact with its users in this way. Normally I would find it cute but Facebook is so boring with so many things that I can't see it as a cool thing (I admit a little tantrum).
Not even Facebook can resist Makima from Chainsaw Man
As you saw in the screenshot above, the social network received more than 3,000 responses to this unexpected interaction, below are just some of the reactions that the otakus had:
Very cool Mark, 30 days of ban
The guy forgot to change the account
Maybe Zuck is ready to create Makima Coin
Customer service is a Weeb HAHAHAHAHAHA
Because you always ban me with absurd rules
I see you are a man of culture
Never knew that Facebook itself was a weeb
Your comment is not relevant
The Chainsaw Man anime will premiere this October. The manga is officially published in Brazil and you can buy the volumes here.
Chainsaw Man Synopsis
Denji is an extremely poor young man who, together with Pochita, his pet demon, works like a convict as a Demon Hunter to pay off the immense debt he has. But his life of misery is about to change thanks to a brutal betrayal!! Here begins the story of a new anti-hero who, with a demon in his body, hunts demons!!