Japanese hotel has a room with a train inside it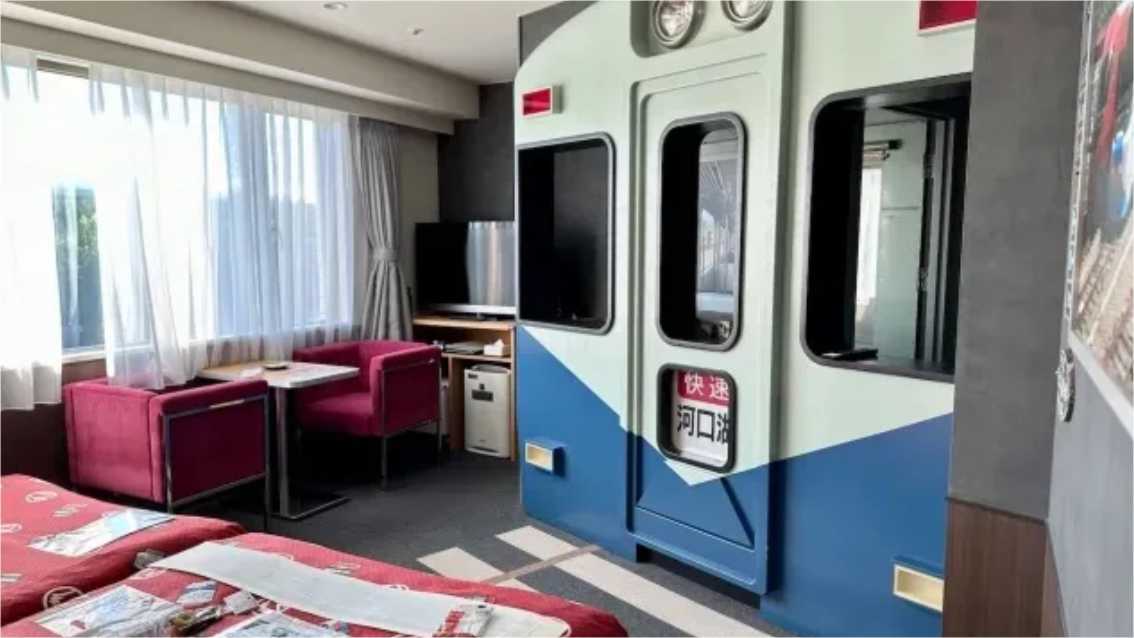 No, you did not read it wrong. There is indeed a Japanese hotel with a train inside it, and today we are going to discover this room and everything it has to offer customers!
If you like Japanese trains, however, there's one place you definitely need to check out, the Fujikyuko Line Room inside the Highland Resort Hotel and Spa adjacent to Fuji-Q Highland in Yamanashi Prefecture.
Japanese hotel has a room with a train inside it
This unique railway concept room is a unique room created recently with full cooperation from the Fuji Sanroku Electric Railway team, which operates the Fuji Kyuko line.
The fun starts at check-in where you receive a special key card and sign for the rental of a aluminum case containing a brake valve lever, a lever to change the direction of travel, and ticket office scissors (a tool to cut tickets).
The card below says: Fuji Sanroku Electric Railway
These items make you feel like you are an employee of a railway company!
Taking the key card and briefcase, we go to our room to start our shift as a fake railway worker, but first, we need to find the room, a task that, according to the staff there, is very easy.
Sure enough, there was no doubt which room was ours, as the door had a nameplate that said: "Fuji Sanroku Electric Railway". According to the team, the nameplate has the same design as the entrance to the Fuji Sanroku Electric Railway Company headquarters, so this was a great way to transport guests into the world of rail travel.
All we need to do now is open the doors and…
As we entered the room, we could see what appeared to be a luggage rack and window frame from a real train. The scenery outside the window was a beautiful view of Mount Fuji in winter.
The rack even featured real leather handles, which would have supported hundreds if not thousands of hands over the years.
Now it was time to go through the noren curtain…
In that room there was a bed and…
A train!!!
What makes it all the more impressive is the fact that it's not just for decoration, the "train" contains real equipment from a real railway vehicle, and you are free to use it as you wish during your stay.
The faithfully reproduced crew cab contains much real equipment, including the driver's cab, such as its starting valve/master controller, driver switches, crew room door, in-car public address equipment (receiver, switch and amplifier) ​​and low voltage distribution board.
These parts were taken from train 1000 series 1202, which operated on the Fujikyuko Line for 26 years, from 1994 until its retirement in October 2020.
In this Japanese hotel you can also wear the uniform…
And the train driver's hat!
Then finally start your shift as a train driver in this Japanese hotel!
To make the experience even more special, while you're on the train you're in the perfect position to see the large wall-mounted monitor, which displays sections along the Fujikyuko Line for added realism.
According to the hotel's website, this special room is "full of unnecessary details", showing how exaggerated the experience was. Another advantage is all the new features available only to guests staying in that room.
Guests receive souvenirs such as a replica of a train timetable actually used in the Showa era (1926-1989).
And also a hand towel with a route map and commemorative Fujikyuko Line room tickets, of which two types are available.
And finally, we have the wonderful view of Mount Fuji from the window.
This Japanese hotel certainly offers a unique experience for those who love trains and have always imagined what it would be like to be a train driver. It is indeed spectacular.
Via: SoraNews24