Mandarake Anime Store is offering money to anyone who can help catch some vandals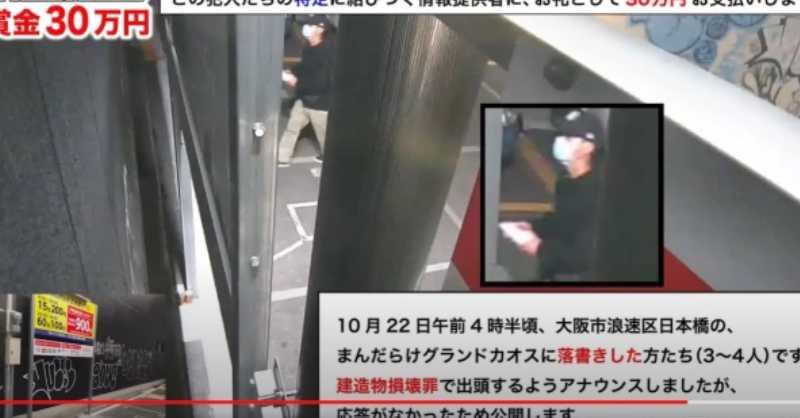 In the early morning of October 22nd, around 4:30 am, a group of men approached the outside of the Mandarake Anime Store in the Nipponbashi neighborhood of Osaka.
The store closes at 8 pm and does not open until noon the next day, so the team had already gone home, but video of the group was captured by a security camera that points to the parking lot and borders the store.
After making sure no one was watching, one of the men grabbed a can of paint and started spraying the back wall of the Mandarake Anime Store. His friends also joined in vandalizing the store.
Mandarake Anime Store is offering $2,128 to anyone who can help catch some vandals
Makoto Yoshihira, manager of the Nipponbashi store, filed a damage report with Osaka police the same day after seeing the graffiti, and while the police are on the case, he is also seeking people's help by offering a 300,000 yen ($2,128) reward. for information leading to the identification of graffiti vandals
"We're not going to take this in silence," Yoshihira said. "I want them to apologize and pay for the damages". See below some reactions from the Japanese:
"If they are caught, they themselves must pay the cost of cleaning up the graffiti and the reward money."
"I can't let this go. I have to find them and make them pay."
"There's a fine line between what is and isn't acceptable mischief, but graffiti is a straightforward crime."
"They are no better than dogs or cats pissing on the wall to try to mark their territory."
"I'm really curious about that cute creature crawling on top of the sign at 2:58 into the video."
What do you think about this Mandarake Anime Store case? Leave your opinion in the comments!
Source: SoraNews24