Fans are worried about NTRMan: "I lost the last reason I had to keep myself in this world"
It seems that the artist NTRMan, known for his Netorare productions, is going through a very difficult situation as he posted a very complicated message days ago.
He published a very depressing message about losing the reason to kept him in this world, it is not known what happened to him, the author was missing from his Fanbox and Patreon for weeks and reappeared on his twitter with this worrying message: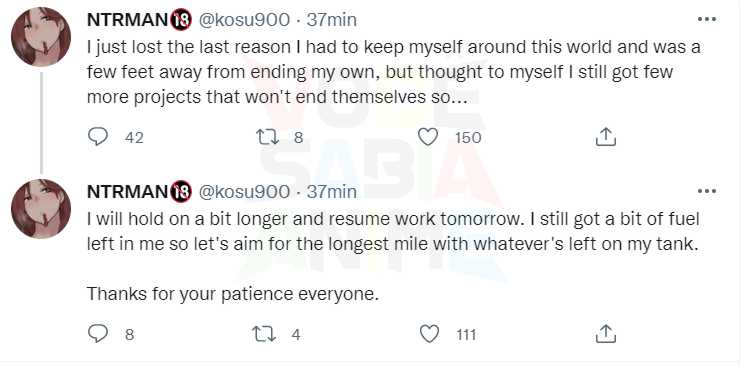 After these troubling posts, her fans responded with these messages of support:
dude, don't ever give up you can still fight no matter what happen don't ever give up think positive and i'm here to support you take some time to recover play with your friend and have fun in IRL and always remember that's we always there for you we love you as a friend. FIGHT!!

— abbulkayr pendatun (@abbulkayr) August 24, 2022
You are my inspiration to improve as an artist, if you decide to stop working, continue or take a long break, that's ok, we will be here to support you 🤝

— DHNSFW (@DanHNSFW) August 25, 2022
Man, I don't know you but I want you to know you're wanted here, I'm so sorry you're going through this, I hope it reaches you that people you don't even know want you here, please get help, for your own sake. I seriously know how this feels and I'm so sorry you're feeling it.

— Dahshan (@AhmedDahshan_) August 24, 2022
you will probably not see this message, but know that both people in your personal life and people on the internet want you alive, life is unfortunately not 100% happy,but I believe that we must fight even if everything is difficult, I wish you hope and that everything will be ok

— bixiga taboca (@MaathsGabs) August 24, 2022
Please rest as long as it takes. Quality time to yourself, family, loved ones and friends. All love and support. I'm a relatively new fan, but I say this with utmost genuine love and concern not as a fan but as a fellow human. You got this. Take care of yourself. All love!!!

— 山花 (@yamahana_desu) August 23, 2022
that the only solution you can think of is ending it, but know that IT IS NOT THE ANSWER. suicide is just a temporary solution and as much as it sounds cliche TIME HEALS ALL WOUNDS. there are people (fans and strangers) like me, who are complete strangers but know you struggles.

— [email protected] Clover (Spade Kingdom) #BC170 (@trashsama5553) August 24, 2022
Hello, please don't have the idea of suicide. In fact, the problem is not as bad as you think, optimistic point stick to can let oneself get unexpected surprise. As a Chinese saying goes, "No pain, no sweet." You've seen the worst of it, and you're not afraid of what comes next.

— giaogao123 (@giaogao123) August 23, 2022
1 reason to open your eyes at the start of the day and say it's ok I am gonna be ok. There are many people who just have that one reason and it can keep them going. I know I was right there where you are standing 2 years ago at the height of the lock down.

— Jim_solidus (@JimSolidus) August 24, 2022
She asked me if I was ok and that she just got a feeling of dread that I needed help. I don't normally talk with my Ma about these things but I told her about how bad things were and how hard it was living alone with no one to see and touch, being a prisoner in your own home.

— Jim_solidus (@JimSolidus) August 24, 2022
What is important is that it is a good reason for YOU. Start with 1 reason then work on the next, and the next, and another one after that keep adding and keep on going things will get better. I am now in a better place in my head.

— Jim_solidus (@JimSolidus) August 24, 2022
Hey man, it's a difficult situation that not many of us would understand but do hope that you do well and wish you nothing but the best. You don't need to push yourself again and I think you should give yourself more time and spend the time with family and friends. Take care! 🫂

— brandon (@kero_knight) August 23, 2022
NTRMan is known for releasing several Netorare-themed games. He also often does illustrations.
Well, I can only hope that his life gets better, we have no idea what he's going through. But if you want to click here and leave him a message of support.